Five ways to get noticed as an influencer … by us!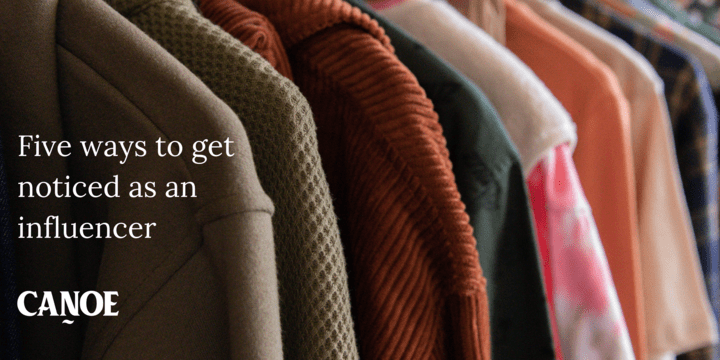 There isn't a cheat code that you can use to unlock the hallowed grounds of Influencer and PR agency unity, but there are certainly several things that, as an agency, would catch our eyes.
A key thing to remember when putting yourself on our radar is, why us? Why a particular brand? And why you? If you can join the dots to those points, then it's a great start.
1. Strive for something new. 
We're very deep into the world of content creators and influencers, and plenty of super talented people are out there. If you can genuinely bring a new approach or aesthetic to the table, we're going to want to see it.
2. Hold yourself accountable.
Make sure that whatever your medium is, it's quality. That doesn't have to mean chucking bucket loads of cash at production. It means integrity, authenticity, originality, consistency and other fun buzzwords.
3. Take your time. 
Master your voice, your niche, the thing that makes you do what you do. When you have that, position yourself where you want to grow and where you can have longevity. When we partner influencers with our clients, it's imperative to know if there is scope to build on the relationship.
4. Know your audience.
You'll know better than anyone what your audience wants, and we rely on it, from the tone of voice and creative direction to the frequency of posts and community interaction. So, although perhaps not the sexiest of insights vs engagements/likes/followers etc, it will ensure that we can suitably match a client's brief to your audience and their interests.
5. Professionalism.
Sometimes it feels like there aren't enough hours in the day. So for us to be confident that you are a reliable character is priceless. Responding to communications promptly and sharing your deliverables at the agreed time makes our life easier and will help you stay in favour for future opportunities. That might sound a little spiky, but we want to work with people that make things enjoyable, and these little things help.
Summary
Much of what it comes down to is preparation, research and communication.
We can facilitate some of the globe's most exciting and influential brands and present interesting briefs and opportunities with them. If you can tick off the points mentioned earlier, then there's a good chance we could create some really great results together.
If this sounds like you, then please feel free to make yourself known. Contact us here or head over to our Instagram and drop us a DM.