The devil is in the supplier detail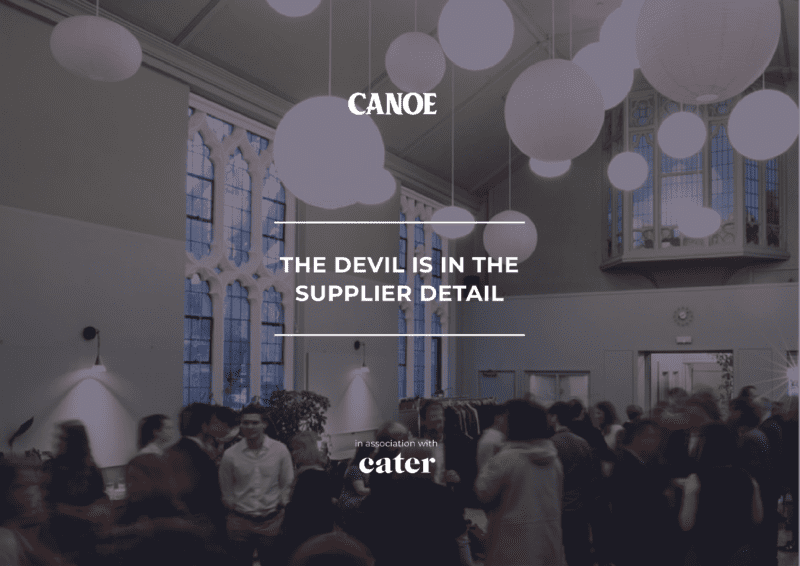 You've been working on an event for months, the week's have counted down and it's finally launch day.
Production has set the scene, and the venue is looking spot on. The PR team has assembled a great guest list, and attendees are ready to embrace the event, grab a drink and a bite to eat, and …. "Oh, that's disappointing."
Absolutely not the words you want to hear. Every detail has been gone over with a fine-tooth comb and you're now at risk of an external supplier leaving an unpleasant taste with your guests. Not on our watch.
Suppliers, in many respects, are a precarious brand partner. If you get it wrong, be it food, audiovisual or whatever else, you run the risk of tainting the experience for your guests. At that point, it's beyond the point of retrieval. 
Few things are quite as important or as divisive as the refreshments. We've been fortunate not to have any major disasters on our hands in almost 20 years. On the flip side, we've been lucky to build relationships across various events where we've enlisted caterers to handle different requirements – casual, formal, dietary, the goalposts are ever-changing. A supplier that can adapt to this is worth every penny. 
We're fortunate that in Cater, we've managed to develop a relationship where we can deliver a brief, safe in the knowledge that they'll respond with a number of options that fit the bill. That's key. We know what we want, but they know what they can deliver to our standards. Collaboration is crucial. As much as they likely don't know all of the nuances of PR communications, we can say the same about us and catering. Trust is paramount. 
So, get your suppliers right. Trial and error is part of the game, but it doesn't have to be at your clients' expense. Sample foods, visit potential suppliers events and consider the fit. 
If after all that they meet your criteria, then get those coals burning. Sorry, confusing analogy; yes, Cater is back with Canoe next month to feed our guests during the Canoe press days party. 
Medium rare, please.