Do in person press days still have a place?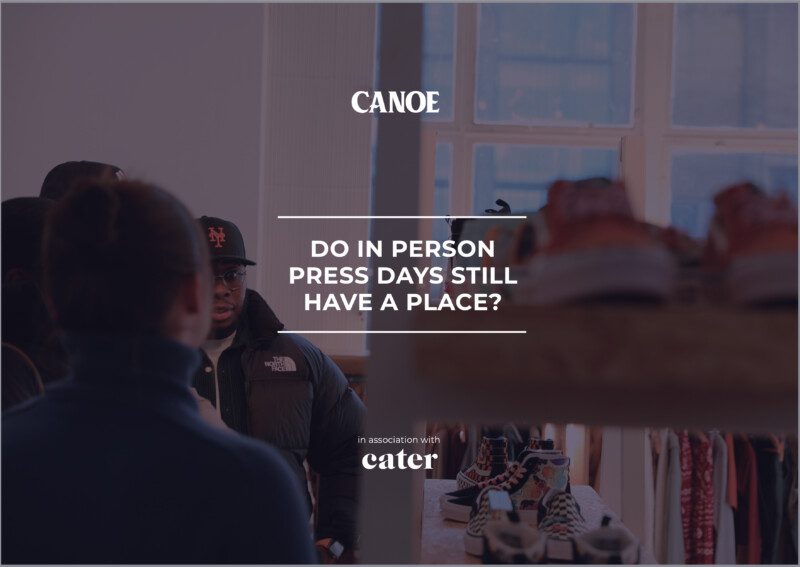 Tis' the press day season. Canoe press days are back on the agenda, our bi-annual opportunity to bring our client's forthcoming collections together under one roof and showcase them to invited industry guests. A contentious talking point in the office over the past few seasons, having observed how some brands and agencies are dropping press days is, are they still worthwhile? Can the potential risk of cutting out face-to-face interactions be accounted for by other means?
Are the days of face-to-face over? 
Discussions are held before ultimately concluding yes, it's absolutely worthwhile. More than that, it's fundamental, for Canoe at least! If you do press days right and react to the climate and media landscape, they are an invaluable asset. Being reactive is the crux, and it's not to say that the current format will even be viable next season. But evolving is the nature of our business and our industry.
The impact of COVID on the PR industry
Everyone had to navigate the last few years in a way that worked for them. We went virtual, we went hybrid and for the past few seasons we've returned to in-person events. As an agency, there's a strong consensus on the importance of being able to meet with our media contacts face-to-face, outside of events, away from our emails and not across a computer screen. It's a vital time to pause and put all of the focus on our clients' collections and brand stories. This approach allows our teams to grow relationships and trust with our media and talent networks.
Not to be undervalued is the chance for our wider teams to have the time to better understand brands that they don't work on daily. The more our agency as a whole understands and appreciates what everyone is doing, the more our expertise, experience and insight can positively impact the wider business. 
Emails or in person? What is more effective.
It's also not just about us. Emails are great and kudos to whoever invented them*, but we are in PR, we like to chat, and we like to listen to what's going on in the industry from the other side of the screen. From media titles and influencers, to content creators, talent agents, broadcasters and everything in between. This is our opportunity as an agency to gather insight, intel and, let's be honest, a bit of gossip, which can inform our plans and strategies. From personnel changes, to trend tips, to pitching preferences and do's and don'ts. 
So, 'do in-person press days still have a place?', for us, right now, definitely. They remain our preference, to nurture our industry relationships, to stay informed for our clients, to educate our wider teams, and to allow us to deliver greater context and substance to product launches. 

Canoe's AW22 will take place 'in-person' at our Brick Lane showroom this May.
*Ray Tomlinson