5 top trends in social this week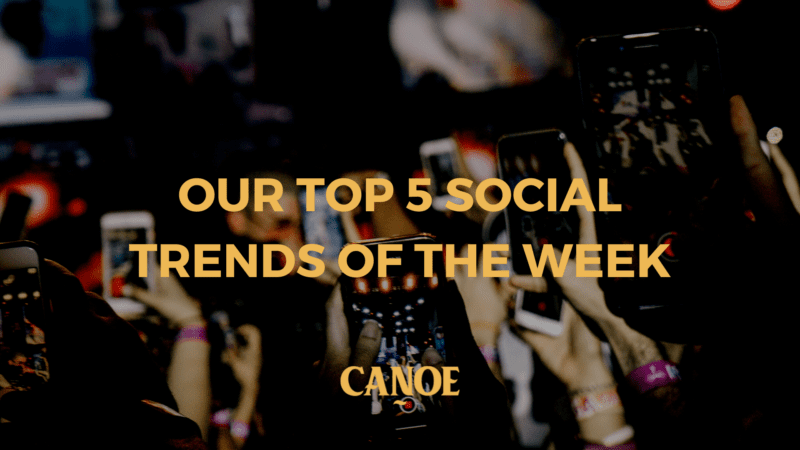 Social Media. It's something every brand has to consider but it often moves so fast that it is hard to keep up. Here we dive into the top 5 trends we have noticed in social this week.
1. Pop Culture and Reactive Marketing.
On Social Media, reactive marketing is king. This week, the Oscars saw the most iconic moment in television since Kanye said "imma let you finish". 
One easy way for brands to appeal to Gen-Z is by linking their niche to moments in pop culture. TikTok has sparked a more relatable marketing style which many big brands have adopted (Think Duo Lingo, Ryan Air etc).  Most notably, Fashion Nova notified their users of a sale using a reference to the now-infamous slap, which has received mixed reception online. 
2. Updated Feed Style – Instagram 
Instagram has begun the rollout of a news feed. Users will now be able to personalise their feed using three view options: 
Home

– The feed we currently have that feeds your content based on what the algorithm thinks you will like

Following

– The original chronological feed

Favourites

– Also chronological but with content from up to 50 accounts favourited by the user.
People are discussing what this means for brands and content creators and how this will affect their engagement. It's time for social media managers and creators to start factoring all three feeds into their social plans.
3. Charity and social – Ukraine Cat 
The world is incredibly heavy at the moment, particularly with social media reporting the news 24/7. Sometimes amongst the doom and gloom, there are some heartwarming moments. 
Stepan, a Ukrainian Cat, who went viral for his hilarious and incredibly relatable TikTok content has been using his platform to raise money for Charities that are supporting animals affected by the war in Ukraine. Stepan's content has been shared by some top A-listers and even landed a starring role in an advert for Valentino. 
Stepan's owner has been documenting their journey, having been forced to leave their home and seek refuge in France. Together with their 1.2 Million followers, over $10,000 has been raised for the charities 'Happy Paw', 'UAnimals', 'Mykolaiv Zoo', 'XII Months' and 'Plyushka'.
4. TikTok Search Ad
Brands know that success on TikTok can lead to both brand awareness and sales. TikTok are now testing search ads, enabling brands to further their reach and boost click through rates.
5. Twitter – New Ad Types
Twitter is testing three new ad formats to make the platform a more profitable place for brands.
Interactive text ads will enable Brands to add landing pages to individual words in their tweets. 
"These ads will appear with a larger, bolder typeface than the standard Twitter font in the timeline. Advertisers can highlight up to three words in their ad copy that, when clicked, will drive consumers to landing pages chosen by the brand." – Twitter
Product Explorer Ads will enable brands to present their products in 3D so that users can interact with the promoted tweet.
Collection Ads will enable brands touse multiple images within one promoted ad.
"Brands can display a primary hero image with up to five smaller thumbnail visuals below. The primary image remains static while consumers can browse through the thumbnails via a horizontal scrolling experience." – Twitter
If you are looking to revolutionise your social strategy and jump on these trends, don't hesitate to get in contact. Click here.